He must REALLY love her.....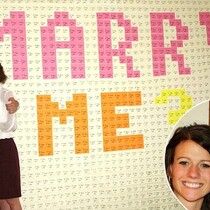 Posted June 20th, 2013 @ 6:35am

A guy from Colorado wrote "I Love You" on 8,000 Post-It Notes and wallpapered his girlfriends apartment with them, having the the colored notes spell out "Will You Marry Me?"
His father helped him with the proposal project, which had to be done before the girlfriend returned from work. They used a chair so they could paper right up to the ceiling and took care to work around features such as door and window frames.
The hard work paid off because his girlfriend said 'yes'.