Chris Brown Plans To Sue Rape Accuser For Defamation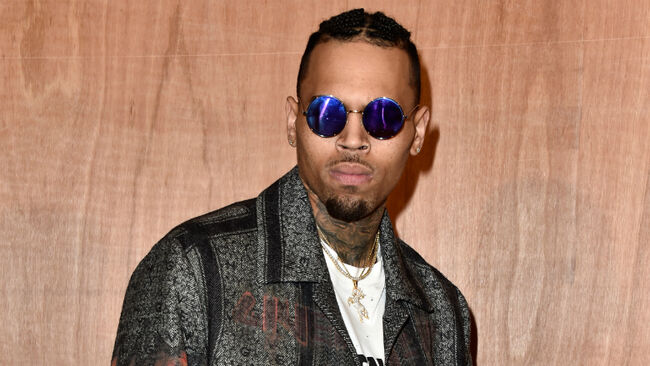 Chris Brown is planning to sue the woman who alleged that he raped her in a Paris hotel room.
According to TMZ, the 29-year-old singer will sue his accuser for defamation. Chris' Parisian lawyer, Raphael Chiche, told the gossip site on Tuesday (January 22): "Chris Brown is free. No lawsuits were filed against him. He vigorously challenges the charges against him. A complaint for slanderous denunciation will be filed tomorrow with the public prosecutor of Paris."
As previously reported, Chris was arrested in Paris on Monday (January 21) following accusations of aggravated rape and drug violations. While Chris was released without charge the investigation into the incident continues, the AFP reports.
Shortly after being released from police custody on Tuesday, Chris took to Instagram to deny all allegations against him. In a message to his fans and his accuser, he captioned a graphic that reads, "This B*tch Lyin'": "I WANNA MAKE IT PERFECTLY CLEAR...... THIS IS FALSE AND A WHOLE LOT OF CAP! NNNNNNNNEEEEEEEEEEVVVVVVVVVVEEEEEERRRRRR!!!!!! FOR MY DAUGHTER AND MY FAMILY THIS IS SO DISPRESPECTFUL AND IS AGAINST MY CHARACTER AND MORALS!!!!!"
The woman who is accusing him of rape also spoke out in an interview with Closer magazine, shared via TMZ, claiming Chris raped her in a hotel dressing room for 25-30 minutes in what she called a "brutal and violent" attack.
The 24-year-old model, whose name Closer protected — simply calling her by the pseudonym Karima — told the mag she met Chris at the Mandarin Oriental hotel in Paris, France on Tuesday (January 15) around 10:30 PM, and then went to a nightclub. She claims the two returned to the hotel, with Chris' crew in tow, around 4 a.m. While Karima acknowledged that she returned to the hotel at her own will she said she was tired but they convinced her to go back to the Mandarin with a group of people.
Once inside Chris' suite, Karima said she went to the bathroom and that's when Chris allegedly followed her and "catches me by the right arm. He makes me enter a sort of dressing room. He closed the door ... it lasted 25 - 30 minutes." She described the encounter as both "brutal and violent," adding she was then "abused" by one of Chris' friends and a bodyguard. Despite being scared, Karima said she ultimately decided to go to the police two days after she was allegedly raped because she didn't want the R&B singer to "be able to do the same things to other girls."
Chris' camp disputed Karima's claims, denying she was ever alone with the "Overdose" singer. Sources connected to him also told TMZ Chris' girlfriend, Amika Harris, "was in the hotel room the whole time." The insider added that there were more than 20 people in the room "hanging out" and listening to Chris' music from his iPhone.
Photo: Getty Images