HEATHER LOCKLEAR: Cops Look for Gun
Police in L.A. were at Heather Locklear's house yesterday with a search warrant reportedly looking for a gun.
Locklear was arrested for domestic violence last week after she allegedly got into into a physical altercation with her boyfriend, Chris Heisser. At the time of her arrest, police say she was belligerent, intoxicated and told them, "If you ever come back to my house I will shoot you." Police say the actress has a gun registered in her name, but their search of the house came up empty. Locklear is currently seeking help in a treatment facility. (TMZ)
DWAYNE JOHNSON: Daughter Has Emergency
Dwayne Johnson is thanking first responders and hospital staff for saving his daughter's life.
The Rock is staying mum on what exactly happened to his two-year-old daughter, Jasmine. The Rock dialed 911 and Jasmine took an ambulance ride for treatment at UCLA's emergency room.
The Rock told his 101 million Instagram followers, "Things got a lil' hairy this weekend. Thank you, LAFD first responders & UCLA medical team. We're grateful to you all and if you ever need anything, I got your back." (E! News)
CYNTHIA NIXON: Sex and the City
Star Planning Gubernatorial Run




Sex and the City star Cynthia Nixon is one step closer to running for governor of New York.

According to NY1, the actress has begun "assembling staff to lay the groundwork for a competitive campaign" against incumbent Andrew Cuomo in a Democratic primary in September.

That team reportedly includes Rebecca Katz and Bill Hyers, who both worked on Bill de Blasio's first campaign for mayor of New York.

Cynthia hasn't declared her candidacy, but rumors of her gubernatorial run began to circulate last summer.



FRANCES McDORMAND: Oscar Thief Charged
Frances McDormand may not want her Oscar thief charged, but the Academy does.
Turns out, the Best Actress winner doesn't have a say. Technically, the Academy of Motion Picture Arts and Sciences owns the trophy, not Frances. And they want the book thrown at Terry Bryant, the man who pilfered the Oscar from Frances's dinner table at the Governors Ball Sunday night.
He's been officially charged with felony grand theft and faces up to three years in prison. (TMZ)
JIMMY KIMMEL: Feuds With President Over Oscar Ratings
Jimmy Kimmel and Donald Trump got into a Twitter feud over the Oscarstoday (Tuesday).
The president kicked things off by tweeting, "Lowest rated Oscars in HISTORY. Problem is, we don't have Stars anymore - except your President (just kidding, of course)!"
He was right. The awards ceremony had an all-time low 26.5 million viewers on Sunday.
Kimmel hit back, writing, "Thanks, lowest rated President in HISTORY."
He was right, too. President Trump's current approval rating is at 39 percent, according to the latest Gallup poll. It's been as low as 35 percent. (Billboard)
THE BACHELOR: Arie Proposed to Lauren
The Bachelor season finale came to a fitting conclusion: Arie Luyendyk Jr. proposed to Lauren Burnham with a 3.5 carat diamond ring. Then host Chris Harrison wished for Arie that this engagement lasted longer than his previous one.
His jilted fiancée, Becca Kufrin, earned a second chance at love. The studio audience roared with approval as Becca was announced as the next Bachelorette. The crowd was clearly Team Becca and disapproved of the way Arie mistreated her.
Chris Harrison explored the timeline from Arie proposing to Becca in Peru to Lauren accepting him back with open arms and heart. He'd been engaged for only five weeks when Arie DM'd Lauren's Instagram account on New Year's Eve. By the first weekend in February, they'd hooked up.
In between, Lauren assured Arie that she wanted him back. It meant he could dump Becca with confidence that a rebound romance awaited. Arie put on an act for the cameras outside Lauren's home. He didn't have butterflies. He knew perfectly well Lauren would welcome him back. (Gossip Cop)
There are conflicting reports about how cameras joined Arie for the breakup with Becca. ABC denied forcing it, but former Bachelor Jason Mesnick admitted he refused producer's demands to record him ending an engagement.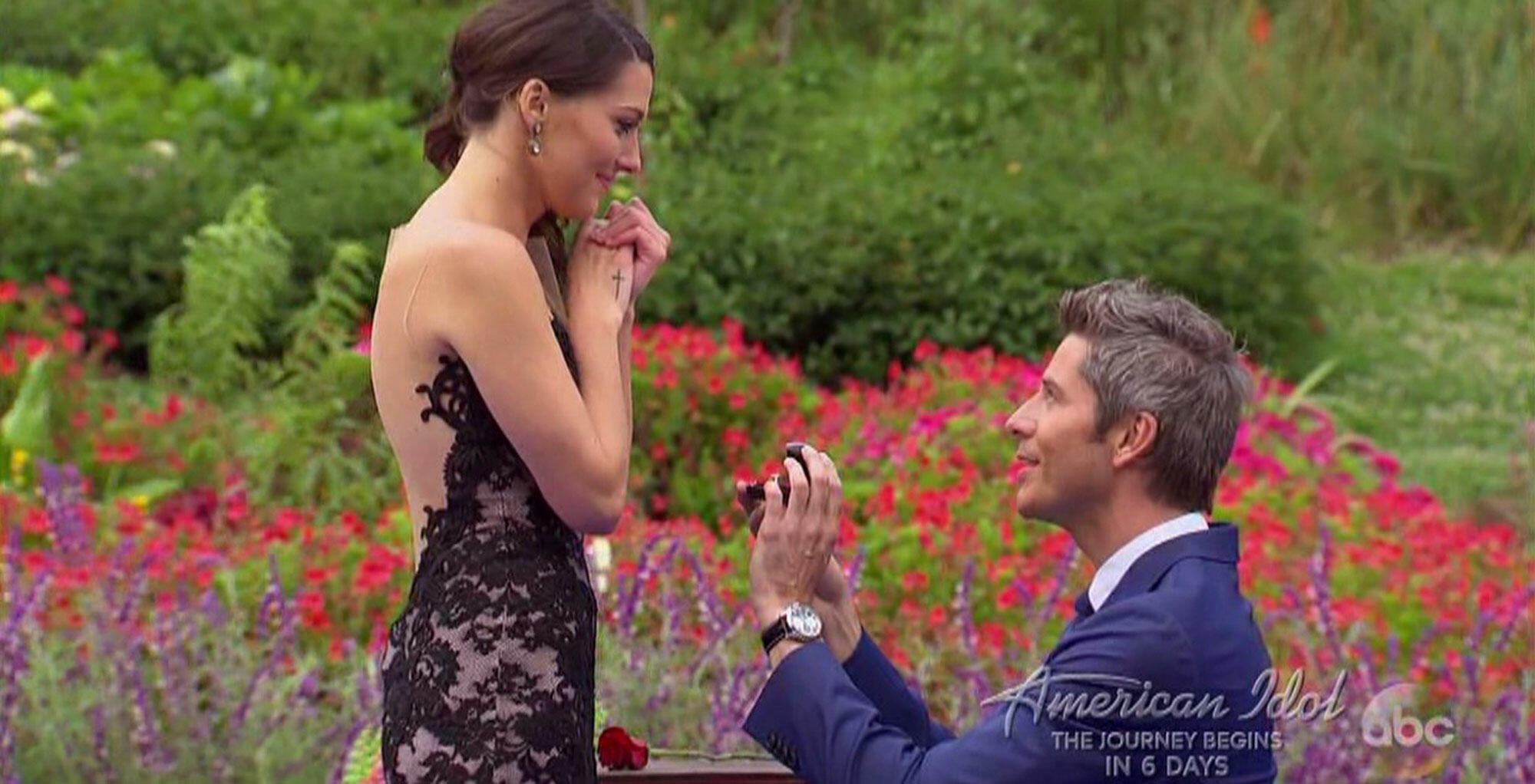 HOLLYWOOD BUZZ
Becca Kufrin was named the next Bachelorette Tuesday on The Bachelor: After the Final Rose. Arie Luyendyk Junior dumped the 27-year-old publicist two months after proposing on Monday's finale of The Bachelor. She says, "At this point, I want this chapter of Arie to be done and close it and put it on the shelf and put it away." (People)
The investment group that reached a tentative deal to buy The Weinstein Company has called it off after receiving "disappointing information about the viability of completing this transaction," The Wall Street Journal reports.
Nickelodeon is bringing back Blue's Clues. The network has ordered 20 episodes of the educational series. Production will begin this summer.
Nick Offerman has joined the cast of Good Omens. The six part Amazon Prime Video adaptation will also star Michael Sheen, David Tennant, Jon Hamm and Miranda Richardson.
SARA BAREILLES: Kid in the Hall
Sara Bareilles just got a hall pass -- to the Songwriters' Hall of Fame.
Sara, who's topped the charts with tunes like "Love Song" and won over Broadway audiences with the long-running musical Waitress, has been named the recipient of the Hall's annual Hal David Starlight Award, designed to honor young writers who've made a great impact.
She joins some pretty prestigious past winners of the award, including Ed Sheeran,Imagine Dragons' Dan Reynolds, Taylor Swift, John Mayer, Rob Thomas and John Rzeznik.
The annual awards ceremony will take place in New York City on June 14th.